As a building material, timber is chosen by designers for its texture, warmth and beauty.
Through constant research and sourcing, Amtrac has established to be a One-Stop Timber Resource Centre.
Products being offered include sustainable hardwood and softwood, chemical and heat treated timber, wood plastic composite, bamboo composite and the latest rice husk composite.
In keeping with its concern for environment, Amtrac is a FSC certified company.
Hardwood has been a popular choice of timber for its durability and strength.
Recommended species for outdoor are IPE, Cumaru, Teak and Jarrah. IPE is tried and proven in performance and it is also fire resistant due to its dense structure.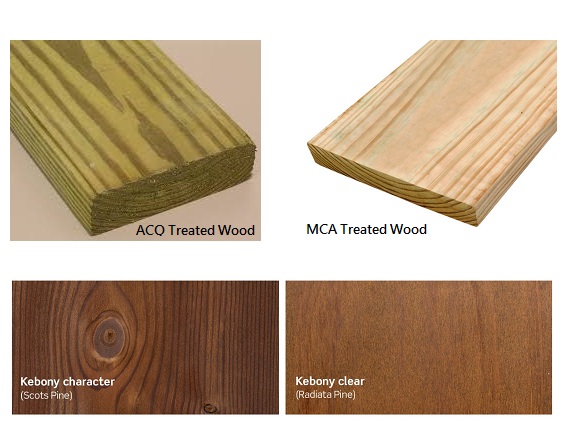 Chemical treated wood offers excellent termite and rot resistance with a warranty ranging from 20 to 50 years. Different types of treatment are available. Commonly used treatments are CCA, ACQ, MCA.
KEBONY uses a new form of proprietary treatment and is gaining acceptance. It is to be noted that our supply of CCA treated timber will be phased out due to environmental concern despite its proven performance.
Fire Retardant Treated Wood
Fire retardant treated wood is used in building areas where the material requires a fire rating for safety reasons. Properly treated fire retardant timber requires the chemical to be fully embedded into the timber and is superior in performance compared to surface applied treatment. Exterior Fire-X produced by Hoover of USA is such a product and is certified to comply with BS476-Part 7 class 1.
Heat treated wood is fast gaining acceptance due to its dimensional stability and durability. The timber no longer twist or warp and is ideal for cladding and trellis. The thermal modification process means the treated wood has enhanced stability, is a beautiful homogeneous brown colour, and is naturally durable so does not require any chemical preservatives.
Generally 3 different types of composites are found in the market: Wood Plastic Composite (WPC), Bamboo Plastic Composite (BPC) and the latest generation Rice husk Composite (RHC). Rice Husk Composite out-performs the other type of composites and has high resistance to water absorption.

Resysta of Germany is a rice husk composite and it is also fire resistant, complying with BS476 Part 6 & 7, class 1.
Laminated timber, Glulam can be manufactured to any size and shape to create long span 3-dimension structures, enabling designers to achieve some very innovative iconic structures.
Quick-Install Decking
iDecking provides two "quick-install" decking solutions which will save time and cost.
The two systems, "Easy Click" and "Easy Change" do not require any screw fixing and the decking boards can be easily removed to allow for maintenance and servicing.
Available decking boards can be rice husk or bamboo composite, in addition to commonly available hardwood species as custom orders.
Traditionally timber joists or standard metal sections are used to support the decking. Eurotec engineered aluminum alloy profiles offer a durable and sound alterative to the support system. For raised decking Eurotec offers an adjustable heavy duty pedestal (8kN load capacity) to work with the alloy profiles as an integral system.
Eurotec products are designed and manufactured in Germany with a 15 year warranty.
SPAX of Germany offers a range of premium stainless steel timber screws with a proprietary tip for easy and secured fastening.
Finishes
Wattyl- Timber Oils & Stains with excellent UV and weather resistance from Australia.